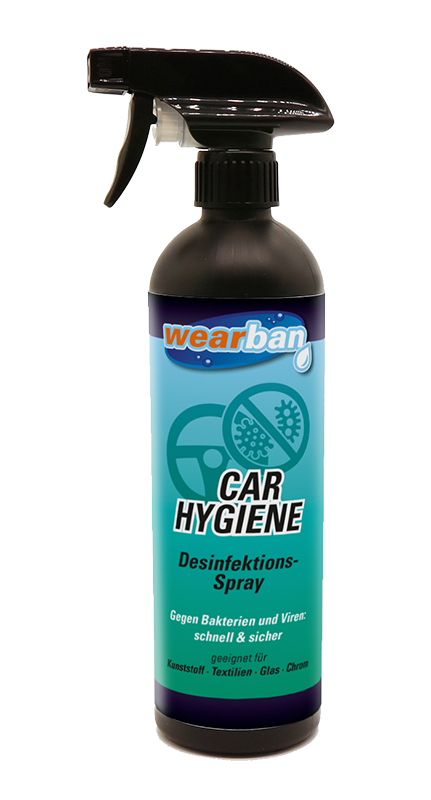 wearban Car Hygene Disinfection Spray
Effective against bacteria and viruses : fast & safe
suitable for plastics · textiles · glass · chrome
For disinfection in your vehicle suitable for plastics, textiles, glass and chrome surfaces
Removes bacteria and viruses quickly and safely
Hygienically clean in 30 seconds: Applied properly, 99 % of the bacteria and viruses on the treated surfaces are eliminated.
Application:
Turn spray nozzle into spraying position.
Spray the surface until every spot is moistened.
Let the spray work in for at least 30 seconds, 3 minutes to maximise the impact.
Please note:
Do not let the spray dry on the treated surfaces.
Oberflächenverträglichkeit an verdeckter Stelle prüfen!
Caution / Safety note
Danger. Causes serious eye damage. If medical advice is needed, have product container or label at hand. Wear eye protection. In case of contact with eyes, rinse carefully with water for several minutes. Remove contact lenses, if present and easy to do. Continue to rinse. Immediately call a Poison Center or doctor/physician. Keep out of reach of children. Avoid release into the environment. Dispose of the content/container by reason of local/national provision UFI: