wearban GEAR – permanent sliding coating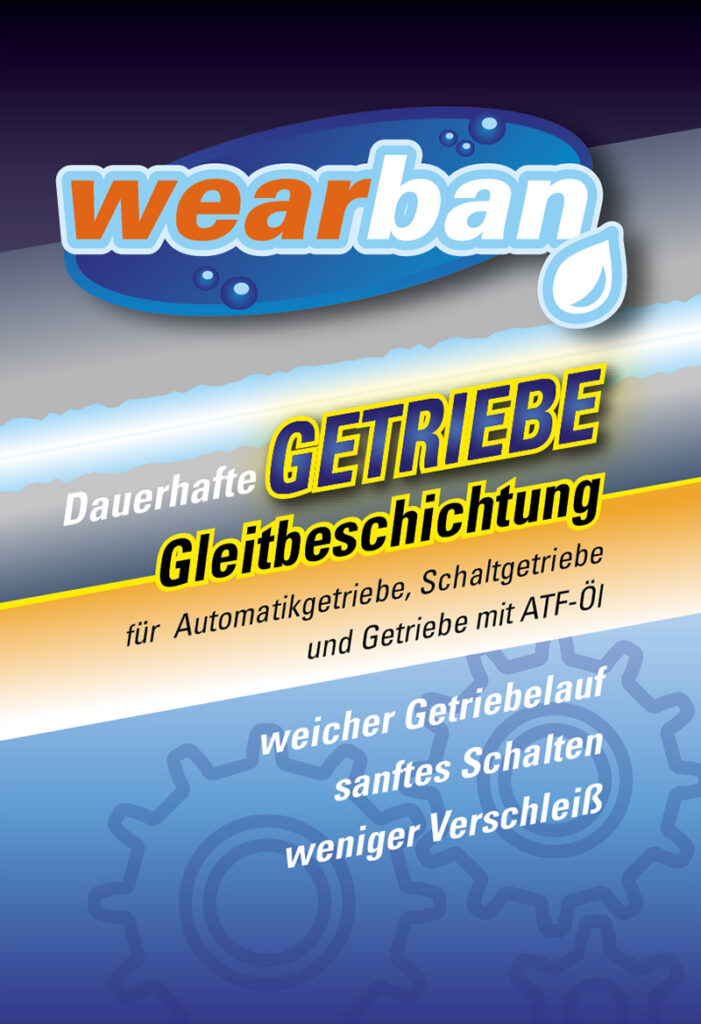 Permanent sliding coating for all types of gears. Long life to your vehicles!
The benefits of wearban GEAR:
reduces friction
smooth gear engagement
Increases roll out performance
smooth gear shifting due to reduced switching resistance
wearban GEAR replaces SX6000
wearban GEAR replaces the legendary coating SX6000 which is no longer available in Europe.
This makes the wearban coating so special:
wearban GEAR lines the friction surfaces wit "heavy" PTFE, the lowest-friction of all substances on the Earth. The surfaces glide against each other "like wet ice on wet ice" (Guinness Book of Records)
Click here for more details about the priciple of operation
Added during the oil change, wearban GEAR circulates with the oil. Firstly, the special formulation achieves the cleaning of the friction surfaces: The metal pores are exposed. Secondly, the PTFE particles are attracted to and implanted in the pores because of the electrostatic charge. As for the "heavy" PTFE, an extensive coat builds on the friction surfaces, which is simply not possible with "light" PTFE.
Heat and pressure, together with the wearban MOTOR coating, make sure that the particles settle down in the pores thightly. Due to the heat the paricles expand. This way, even the "peaks" on the surfaces are covered. As tempearture rises, the particles build a solid gapless layer across the whole surface, with a thickness of 1 to max. 1.5 micron. Thus, there is no longer metal rubbing on metal, only PTFE smoothly gliding on PTFE.
The PTFE/metal compound is permanent and chemically neutral. Only very hard particles and dirt can lead to an erosion of the protective layer. In normal operation, the layer lasts – as has been proven – at least 80.000 km (ca. 50.000 miles), and even longer within long-distance vehicles.
With the coating intact, wear is reduced up to 88 %. (This number – as in the test report "Sequence IIIE" – has officially been recognized and registered as the "product performance" of SX-6000/wearban by the Association of Chemistry Producers in the USA). This has been reported in a test by the Gottlob Reserach Laboratory, which no other product can claim for itself. wearban GEAR stays in the engine permanently.
You don't have to worry about filter clogging as all the particles are smaller than 0.5 micron. Even micro filters (bypass filters) work with a fineness of 1.0 micron and bigger.
wearban GEAR matches with any oil on the market (except from plant oils that aren't immiscible with other oils.)
Suitable protection for your gear type:
wearban GEAR provides protection to all types of gears: • for automatic transmissions with up to 5.0 l of gear oil • for manual transmissions with up to 2.0 l of gear oil • for manual transmission with ATF Oil up to 2.0 l
If your gear type requires more than 5.0 l of gear oil, please contact us for individual amount.
Application:
Open refill srew
Check if there is sufficient room for filling
fill in wearban GEAR
screw shut
drive for a while, changing gears often
Caution / Safety note
Harmful to aquatic organisms, may cause long-term adverse effects Wear protective gloves/protective clothing/eye protection/face protection Danger. Causes serious eye damage. In case of contact with eyes, rinse carefully with water for several minutes. Remove contact lenses, if present and easy to do. Continue to rinse. Immediately call a Poison Center or doctor/physician. If medical advice is needed, have product container or label at hand. Keep out of reach of children. Avoid release into the environment. Dispose of the content/container by reason of local/national provision UFI: