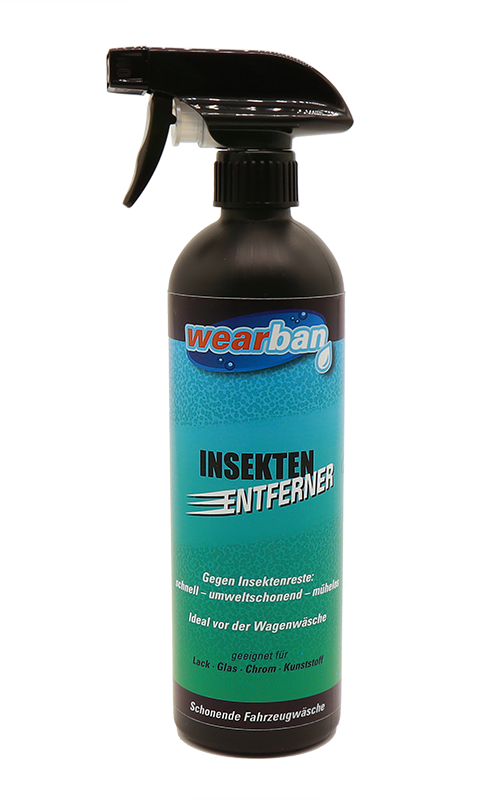 wearban Insect Remover
Clears bug stains:
quick, eco-friendly, effortless
Ideal before the car wash.
Suitable for
paint • chrome • plastic
Special cleaner for the removal of insect stains off paint, glass, chrome and plastic surfaces. Ideal for the treatment prior to the car wash.
Application:
Shake well before use
In case of doubt test surface for tolerability on a concealed spot
Spray surface and let it work in for 3 – 6 minutes
When necessary, massage in with a sponge and let work in briefly
After that rinse thoroughly wash vehicle
We care for the environment
The wearban Insect Remover contains only natural ingredients that are completely bio-degradable. Please consider however, that vehicles are often contaminated with ecologically harmul substances like oil residue that must not get into the soil. Please make sure to conduct the car wash only in suitable places.
Caution / Safety note
May cause an allergic skin reaction.Causes serious eye irritation.
In case of contact with eyes, rinse carefully with water for several minutes. Remove contact lenses, if present and easy to do. continue rinsing. If eye irritation persists, seek medical advice.
In case of contact with skin, rinse with plenty of water. If skin irritation or rash occurs: Get medical advice/attention. If medical advice is needed, have product container or label at hand.
Keep out of reach of children.
Declaration of ingredients: under 5 % of anionic surfactants, fragrances, colorings
Wearban can not accept any liability for the correctness or completeness and can not be held responsible for damages of material or immaterial nature caused by the usage or non-usage of the information offered or the usage of incorrect or incomplete information. Users have to judge the applicability of the information and the products for their purpose for themselves. They must not suggest suitability based on contained or omitted information. All liability is excluded for damage based on wrong assumptions regarding the information or the usage thereof (including liability on the basis of negligence or cases in which the company Wearban was aware of potentially occurring damages.)
Avoid release into the environment. Dispose of the content/container by reason of local/national provision UFI: