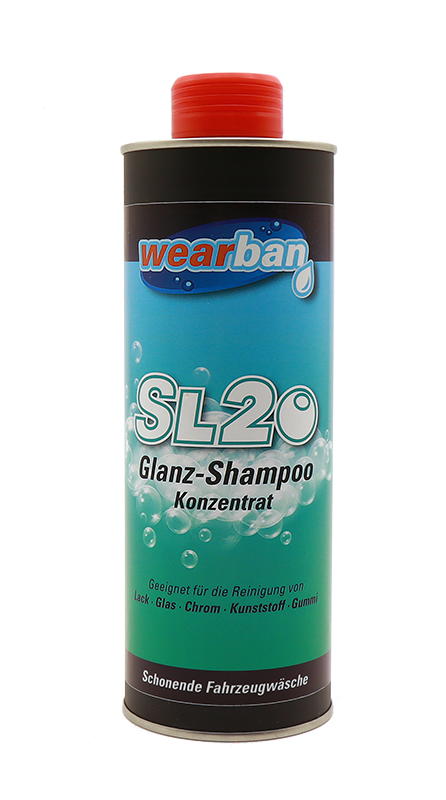 wearban SL20 Gloss Shampoo Concentrate
Gentle car wash:
wearban SL20 Gloss Shampoo loosens dirt without harming the protective wax coat on the car paint.
cleans all surfaces of paint • glass • chrome • rubber • plastic
safe for you and the environment: Ecological formulation: 100 % bio-degradable
free from skin-irritating ingredients
Application:
Remove rough dirt with strong water jet
dissolve about 50 ml of the shampoo concentrate in 10 l of water and foam up (shake bottle well before use)
wash car top down
rinse with plenty of clear water and shammy
We care for the environment
The wearban SL20 Gloss Shampoo contains only natural ingredients that are completely bio-degradable. Please consider however, that vehicles are often contaminated with ecologically harmul substances like oil residue that must not get into the soil. Please make sure to conduct the car wash only in suitable places.

Caution / Safety note
May cause an allergic skin reaction.
Causes serious eye irritation (No danger of eye irritation when used in the recommended mixing ratio.)
In case of contact with eyes, rinse carefully with water for several minutes. Remove contact lenses, if present and easy to do. continue rinsing. If eye irritation persists, seek medical advice. If medical advice is needed, have product container or label at hand.
Keep out of reach of children.
Declaration of ingredients: under 5 % of anionic surfactants, fragrances, colorings
Avoid release into the environment. Dispose of the content/container by reason of local/national provision
UFI: