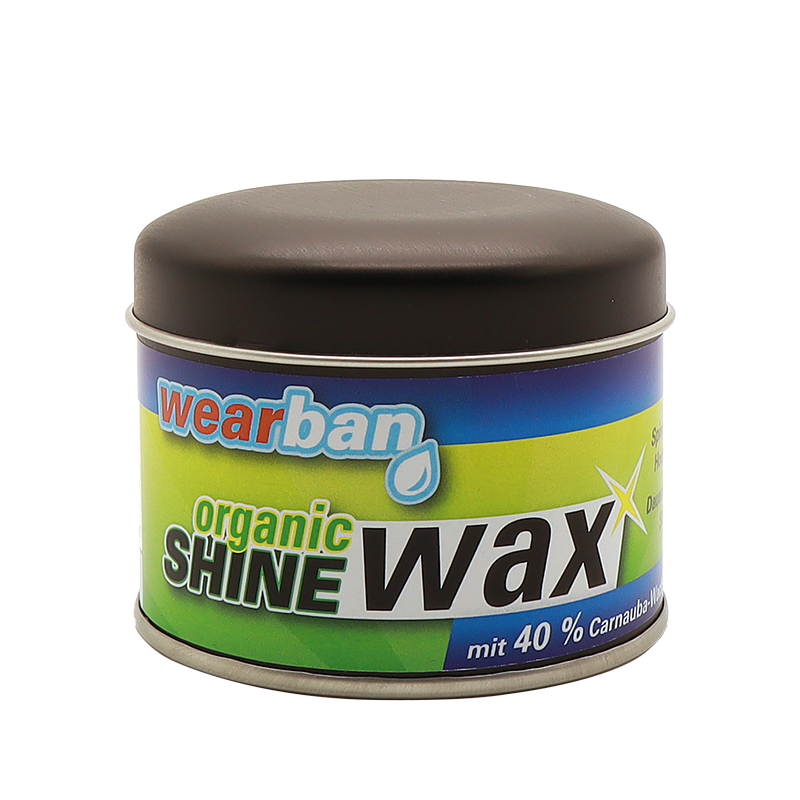 wearban OrganicSHINE wax
High-gloss mirror finish – durable protection
With 40 % Carnauba-Wax
High-gloss mirror finish for standard and metallic paints
High-quality Carnauba wax provides care and protection for the paint and
intensifies the color
provides long-lasting protection against the impacts of weather
eco-friendly formulation: 100 % bio-degradable
By applying the wax onto the warm paint, the active ingredients are absorbed into tiny cracks and form an even more permanent protection-shield
Application:
Wash car with SL20 Gloss Shampoo
Apply a thin layer of wax onto the warm, dry paint using the application pad and spread evenly
Treat connected areas (e. g. hood, roof) in one pass
Let the wax work in for at least 10 minutes (the longer the better)
Let vehicle cool down (in the shadow)
Finally remove wax residues with the micro-fabric cloth
Subsequentliy, polish the surface to a high gloss with organicSHINE M+and a clean cloth.
The content of this can is sufficient for about 4 applications.
Ideal for the car wash before the wax polish: wearban SL20 Gloss Shampoo Concentrate.
For sealing the wax polishon metallic paint: wearban organicSHINE M+ Gloss Sealing
Please note:
• Do not use in the blazing sun or on hot paint
• Do not let the spray dry on the surface
• Protect from frost
Caution / Safety note
Harmful to aquatic organisms, may cause long-term adverse effects.
May cause an allergic skin reaction. Causes serious eye irritation.
In case of contact with eyes, rinse carefully with water for several minutes. Remove contact lenses, if present and easy to do. continue rinsing. If eye irritation persists, seek medical advice. In case of contact with skin, rinse with plenty of water.
If skin irritation or rash occurs: Get medical advice/attention.
If medical advice is needed, have product container or label at hand.
Keep out of reach of children.
Declaration of ingredients:
under 5 % of anionic surfactants, fragrances, colorings
Avoid release into the environment. Dispose of the content/container by reason of local/national provision.
UFI: